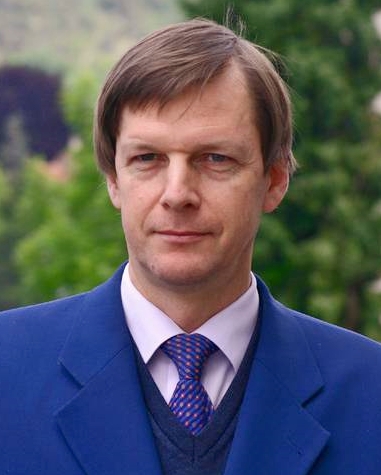 Prominent anthroposophical writer and lecturer, Sergei O. Prokofieff, died recently (26 July 2014) at the age of 60. While heartfelt condolences go out to family and friends for their loss, Prokofieff's passing also provides an opportunity to esoterically review and appraise his life's work.
It would be difficult to find any anthroposophist living today who was more devoted to Rudolf Steiner than Sergei Prokofieff. In his memorial address to Prokofieff given on 29 July 2014, Peter Selg described him as "this most inwardly faithful pupil of Rudolf Steiner and protector of his new revelation of Christ." Sadly, therein lies the tragedy of Prokofieff's life.
It is obvious from Prokofieff's writing and actions that he idolized Rudolf Steiner; he wanted to be just like his eminent teacher. Like Steiner, Prokofieff was a prolific writer and lecturer who spoke with great authority on profound esoteric matters. Unfortunately, Prokofieff was not the high initiate that Rudolf Steiner was: he had no developed clairvoyant perception; he could not read the akashic records; nor could he converse with the bodhisattva-masters of East and West or with the superphysical celestial beings who guide human development.
Moreover, as a high Christian initiate, Rudolf Steiner dedicated his life to serving the saviour of mankind, Christ-Jesus. If Prokofieff really wanted to follow in Steiner's footsteps then he would have likewise dedicated his life to serving Christ-Jesus and not anthroposophy, since anthroposophy is essentially a modern esoteric means of understanding our Saviour.
Together with being a prodigious reader of Steiner's voluminous writings and recorded lectures and possessing a powerful intellectual will, Prokofieff's main talent was his ability to draw complex and detailed connections and interrelationships from Steiner's ideas. Unfortunately, many of the conclusions that Prokofieff drew from his abstruse intellection were contrary to Steiner's own teaching. For example, Steiner repeatedly emphasized that anthroposophy was not a Mystery religion or revival of ancient Gnosticism, but a "spiritual science" adapted to the modern age:
The Gnosis was strictly guarded in hidden Mysteries … Anthroposophy cannot be a revival of the Gnosis. For the latter depended on the development of the Sentient Soul; while Anthroposophy must evolve out of the Spiritual Soul, in the light of Michael's activity, a new understanding of Christ and of the World (Anthroposophical Leading Thoughts; "Gnosis and Anthroposophy;" 1925)
Prokofieff, however, starting with his very first book, Rudolf Steiner and the Founding of the New Mysteries (1982), throughout his life erroneously maintained that Steiner founded "New Mysteries" of esoteric Christianity, what he termed, "Michael Mysteries." Moreover, as stated in Selg's memorial address: "Sergei Prokofieff wrote that he had come to Dornach to aid in developing the Goetheanum [the headquarters of the General Anthroposophical Society] into a contemporary Mystery centre."
Steiner himself was very clear in his writing that he did not come to establish new Michael Mysteries; the new Mysteries of esoteric Christianity had already been established by Christ-Jesus. Anthroposophy's mission as a spiritual science was to understand these Christ-Mysteries. In a lecture given on 27 November 1906 entitled "Esoteric Christianity," Rudolf Steiner stated: "The truth is, the Christian esotericism is the most profound which has ever been brought to mankind. Christian esotericism was brought to the earth by that very Being Himself with whom one must be united. It is a question of belief in the divinity of Christ." Moreover, in a lecture given in 22 December 1923, he further stated: "[W]hoever really understands, the Mystery of Golgotha [the foremost Christian Mystery] understands all the previous [ancient] Mysteries" (published in Mystery Knowledge and Mystery Centres; 2013).
It should come as no esoteric surprise that Prokofieff made a number of fundamental errors in his early publications. What is surprising is that for some strange reason Prokofieff failed to heed Steiner's clear esoteric advise (that was even quoted on page 6 of Rudolf Steiner and the Founding of the New Mysteries!): "I had reached the age of 40, an age before which no one in the sense of a master may openly appear as a teacher of occultism. Everywhere where someone teaches earlier than this there is an error "(Correspondence and Documents 1901-1925).
Unfortunately, Prokofieff felt that contrary to his eminent teacher's own restriction, he could safely step onto the world's stage as an authoritative "teacher of occultism" at the tender age of 28! As many present-day anthroposophists will increasingly come to recognize after Prokofieff's passing, this was a tragic mistake on his part.